Braided Flexible Steel Conduit, Water Proof IP54 Model: YF-704
Clean data transmission in a noisy environment is an ever increasing requirement on today's crowded factory floors. Braided flexible steel conduit systems provide excellent EMI and RFI shielding, as well as mechanical protection, and water resistance, resulting in improved data transmission for factory automations. For Mining & Metal Industry
Braided Flexible Steel Conduit, LIQUID TIGHT IP67 Model: YF-705

IP 67
This liquid tight conduit is designed to protect sensitive electronic circuits in applications such as communications, radar and data transmission from Electro-Magnetic and Radio Frequency Interference (EMI / RFI). Most suitable for radar equipments, airports, CNC machineries and PLC wirings in industrial environments.
Braided Flexible Steel Conduit, All Metallic IP40 Model: SM-70001

Braided flexible steel conduit is used to counter mechanical stress and is highly flexible, and it is resistant against tensile stresses and transverse pressure. The SM-70001 is also excellent in protecting cables against metal particles and against vandalism or rodents. This braided flexible metal conduit is particularly used in (mechanical) critical situations, such as machine-building, steel works and in transport systems and security.
Overbraided flexible conduits are particularly suitable for installation in abrasive environments.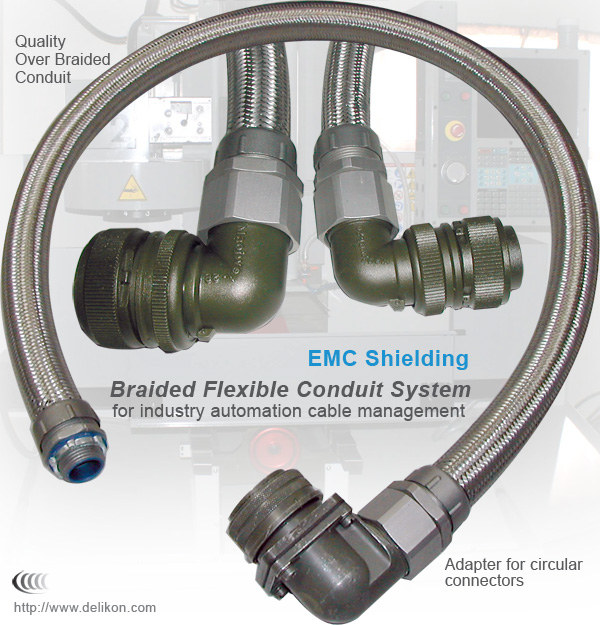 Braided flexible conduit Systems for industry automation cable management
Developed for use on machining and OEM applications, Delikon protective over braided flexible conduit systems have continuously evolved to included specialized systems for chemical, engineering, offshore, rail, underground, tunnel and security applications. They are available in a wide selection of nominal conduit diameters to best meet individual application requirements.

Over braided flexible conduit systems protect vulnerable cabling on metal machining,

welding or heavy plant where abrasion, spillage and increased temperature are all serious operational considerations. They also satisfy arduous demands on railway rolling stock and on essential trackside applications, such as signaling and communications.

With earth continuity via the system fittings, the over braiding can offer a high degree of EMI screening capability, protecting the cables carried within the flexible system. Over braided flexible conduit systems provide a perfect solution to CNC machine wirings or other industry automation cable management where EMI is a great concern.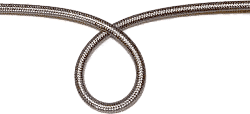 Braided Flexible metallic stainless steel conduit

is ideal for applications where corrosion resistance and cable protection are critical, such as offshore and chemical plants.