Over Braided Flexible Corrugated Polyamide Conduit ( PBF )

Download the catalog page for DELIKON

PBF Braided Nylon Flexible Conduit in PDF File format.
Delikon Over Braided Corrugated Polyamide Flexible Conduit and Fittings Protect Industry Robotics and Automation Cables. This Over Braided Nylon Flexible Conduit is resistant to abrasion, oil, and solvents.
Metal Overbraided flexible corrugated nylon conduit for industry equipment wirings
For industry automation, robotics wirings
Flexible corrugated nylon conduits (metal wire braided)



Wire Over-Braided Flexible Conduit ( PBF )
*Corrugated Nylon core *Wire over-braid
*1/4"~2" trade size *Liquid-tight *Explosion proof

*Wire over-braiding provide more
abrasion resistant and EMI screening.


*Explosion proof.*Durable and long life.
*Inner core made from corrugated Nylon tube.
*Corrugations for more flexibility.

The Braided flexible Nylon conduit is highly flexible and particularly suited for robotic applications. Being made from corrugated Polyamide inner conduit with metal braiding, it is deal for repetitious movement and it is available in a full range of sizes.

OVERBRAIDED CORRUGATED NYLON CONDUIT IS INTENDED TO PROTECT CABLES IN APPLICATIONS WHERE THERE IS REPEATED FLEXING, VIBRATION AND BENDING.

Applications:Appliances, automotive wire & cable sleeving, industrial equipments, medical devices, machineries, wire conduits for all types of machinery, public buildings.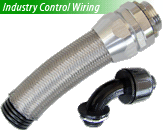 Over braided flexible corrugated nylon conduit for automation data and power wirings
EMC screening is becoming a necessity in an increasing number of applications, particularly in the rail industry and in buildings where electromagnetic interference can compromise the performance of complex and sensitive equipment and data cabling systems. DELIKON has introduced a range of over braided nylon corrugated conduit with EMC screening capacities.

Delikon Over Braided Flexible Conduit flexible conduit Fittings Protect Industry Robotics and Automation Cables. Ideally suited for robotic equipment. This Over Braided Polyamide Flexible Conduit is intended for applications requiring flexible motion, such as power track or cable carrier installations.
DELIKON LIQUID TIGHT STEEL CONDUIT PVC covering LTFC conduit
Electro-galvanized galvanized steel strip which is then profiled and helically wound into a flexible conduit. It is then coated with heavy duty P.V.C. with a smooth surface enabling the fitting to seal completely when assembled. The grade of P.V.C. selected allows greater resistance to a wide range of oils and greases. The product are Smooth P.V.C. coverd, Good crush resistance, Water resistant etc.




APPLICATION :

* A liquid tight system developed for higher temperature applications such as machine tools and/or where the conduit will be required to operate in environments where oils and greases are predominant.
* Used in package lines, conveyors, assembly line, machine tools, material handling equipments, outdoor light fitting welders, pumps, blowers, grinders, heating equipment and automated lines for forging, plating, molding, blasting, rolling, die casting, processing, extruding, etc.
* It is used for wiring circuits located in extremely wet or damp areas and for machines and equipment where ruggedness is required.
* Suitable for inside cold storage areas and is suitable for wiring most types of industrial equipment, which are subjected to moisture from coolant, and other wiring hazards.